Vintec wine cabinets come in several temperature setting options to meet different requirements.
Single Temperature
Dual Temperature
Single / Multi-temperature
Optimum storage condition
Vintec wine cabinets are not just about keeping wine cool. Other technologies for preserving wine to maturity are also incorporated.
Improved Hygrometry
Condensed water is automatically reintroduced as humid air within the cabinet. Vintec wine cabinets are equipped with a system that recycles water from condensation to create correct humidity required. For extremely dry environment, water may be added into the container provided to generate the required humidity.
Carbon Filter
Enhanced ventilation and air renewal.
Anti-frost Security System
Third sensor at the bottom shuts off compressor if temperature reaches 3˚C or below. System is totally independent of ordinary controller circuits.
Black Inner Finishing
A natural cellar setting that prevents excessive light from damaging the maturity process.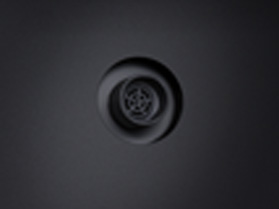 Displays your collection elegantly
For the purpose of a showcase in a restaurant or at home, the Vintec wine cabinets come with an array of functional features.
Internal Light
Lights are integrated in cabinet ceiling to maximize storage utilization.
Layered Glass Door
Triple (two glass and one acrylic) layered glass door with anti-condensation layering to minimize condensation and present a constantly clear showcase.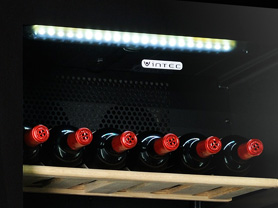 Readily adapts to your lifestyle
Vintec wine cabinets are designed to integrate with the surrounding furniture and space. Installation for below-the-counter or kitchen cabinet is a breeze.
Reversible Door Hinges
Left or right opening depending on your preference or kitchen design.
Integrated Door Lock
Discreet yet secure lock prevents unauthorized access.